I backdated them on the last post date. Click to see them...
November 18, 2009
Well I need to post this before I get totally bogged down with preparations for my two holiday shows this month and Thanksgiving…
So here goes
I will be vending at Indie Banditas Bazaar on Bainbridge Island (where I used to live once upon a time..yes I lived on both Bainbridge and Vashon Islands) on November 27th and 28th from 10am-5pm-Woodward Middle School, Sportsmans Club Rd.
Indie Banditas Bazaar
I will also be vending at I Heart Indie Holidays in downtown Kirkland on November 29th from 11am-6pm at the Lake Street Grill-15 Lake Street, Kirkland Wa 98033
I Heart Indie Holidays!
I will also be at the next I Heart Rummage In Seattle in December on the 20th. Ill post more on that when it gets closer
For now heres a link: IHR
Of course If you cant make it out to any of these events you can always find lots of my stuff at:
Happy Delusions!! Downtown Renton Wa
Twilight Artist Collective!! West Seattle Wa
If you havent been into either of these shops you need to get your butt in to check them out! Really, lots of great art and crafts by local artisans and the shop owners are all really sweet people. You wont be sorry I promise =D
And as always You can shop with me online at Etsy , Artfire and Zazzle !
*A note about the online shops while I am doing the shows* Any One of a kind items that I have for sale online that I will be bringing with me to the shows will be removed from the online inventory for the weekend and then put back online afterward if it doesnt sell. So if you have your eye on something that is a one of a kind or an item that I will not be making again for a while such as the resin pendants I suggest you purchase them now rather than later because they may not be back online for a while or maybe not at all
Thank you so much for your interest in my work and the continued support! Well I better get back to painting so I can have a new painting or two to bring with me to the shows=) I hope to see you there!
Alex~x♥x♥x♥
October 17, 2009
Well it was kind of sad and scary but I closed up my Ebay shop today. This was something that I had to do for the time being so that I could concentrate on my other shops and other things I am doing out in the real non internet world. I will likely open up shop again in the future when I have more time to devote to it and I can do it properly so when that time comes it will be better than before so thats good. I am still going to run monthly auctions since they give you 5 free a month, I have a hard time turning down free listings you know
So with that said I have put up my "Out Trick Or Treating" original painting for a 7 day auction to end next Friday. I know probably not the best timing but it makes me feel better to know I still have something going on over there, I have a hard time completely letting go
Here is the link to the listing, also the starting bid is $100 less than the normal selling price:
http://cgi.ebay.com/ws/eBayISAPI.dll?ViewItem&item=380168869250
Well that's it for the moment, I do have more to post about but I need to go paint and make something for dinner, joy. Back soon!
October 3, 2009
Hope to see you there! Ill be selling some new stuff to, yay!
I Heart Rummage is Seattle's longest running cutting edge urban craft experience!
Located at Capitol Hill's Chop Suey! 1325 E. Madison, Seattle
Join IHR Sunday October 4th!
IHR features 40+ of Seattle's most innovative indie designers and urban crafters
at Chop Suey from 12-4pm the first Sunday of most every month.
Be sure to stop by October 4th and shop the best variety of urban crafts, and hear DJ Huggy, our live house DJ, spin his tracks!
Our special guests for October are Ruby Room and NW Film Forum
IHR always has the latest and greatest in urban crafts!
September 22, 2009
I finally had the chance to get my pictures all edited and loaded up to the internets so I can finally show them off!
Pink Sky: Acrylic on Clay Board 5×7

Petit Gateau: Acrylic on Canvas 4×6

The originals in frames are hanging in Twilight Artist Collective in West Seattle right now and will be there for a few months or until they sell whichever is first so they may or may not be offered in my online shops. I have listed the 8×10 prints online though and they can be purchased through Etsy or Artfire, whichever venue you prefer. Here are the direct links to the prints:
Petit Gateau 8×10 print Artfire
I hope you love them as much as I do! Now I need to paint more, more, more!! =D
September 17, 2009
Quick post to share the new Amanita products on Zazzle! I ordered the red long sleeve t with the website on the back, I cant wait for it to get here so I can wear it this fall! I also have that one without the website on the back and it can be made into whatever shirt/color you want =) Check out the other stuff to mousepads, dog shirts, keychains etc..
Alex~xoxo
September 12, 2009
So now I can officially announce that I am selling my artwork in a new location! I just took some new art and some prints over to Twilight Artist Collective in West Seattle. I am super happy to be there and look forward to the coming year with everyone there =)
I still have to edit my pictures of the new art but as soon as I get that done I will be posting the new pictures and prints for sale, etc..So stay tuned for that! Thanks for stopping by, back soon with new art!
Alex~xoxo
September 2, 2009
First the artwork! Click the pics to get the details on each painting
Cuckoo Clock House: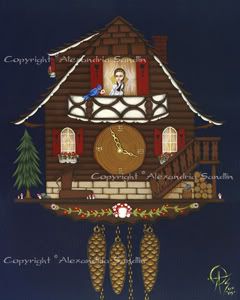 The Golden Scales: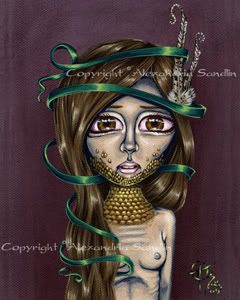 Red Hearts: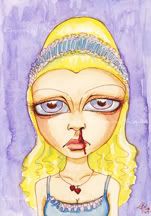 Gypsy and Spider: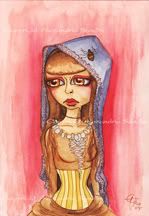 Over the last month I have added a ton of new inventory to my Etsy shop. Lots of great new stuff including bookmarks, stickers, framed/matted mini prints, wearable art jewelry, pin/magnet sets, new prints and original works! I am adding new things almost daily so please heart my shop and keep your eyes out for more great new art to come!
I have some little exciting news on the way but I am not ready to share that publicly just yet….I have a hard time keeping secrets sometimes though. I want to spilll but I wont, not yet
Stay tuned though, heh!
As always thank you so much for peeking in on me and seeing what is going on in my little world! I really appreciate it more than you know =) I hope all is well with YOU! Have a great night!
Alex~XOXOXO